How Cannabis POS Systems Can Help Dispensaries and Retailers Meet State Compliance Regulations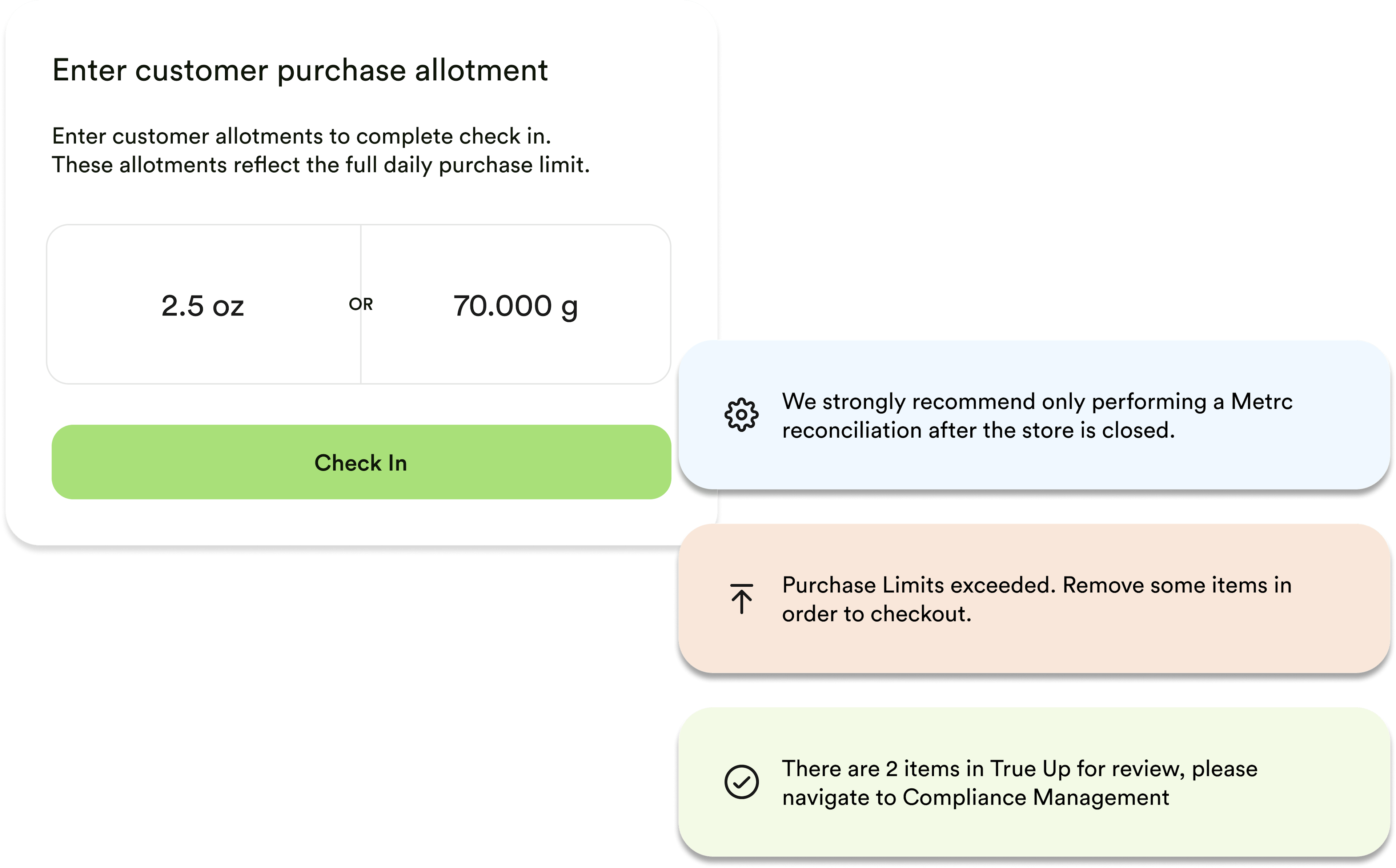 What is cannabis compliance? 
Cannabis compliance simply refers to the set of rules and regulations that a state and country creates around the buying and selling of cannabis products. Similar to how food and beverage companies need to comply with certain standards and regulations, a cannabis business must adhere to the rules laid down for them to remain a legal running entity. 
The number and breadth of regulations you will need to adhere to may vary based on the state you open the cannabis dispensary or retail outlet in. But some of the common requirements include: 
Tracking inventory - Track all cannabis products at the dispensary or retail outlet from seed to sale, along with information on the origin of the product - how it was grown, produced, manufactured, lab results and sold. 

Managing customer data - Keep detailed customer records including name, contact information, products purchased, medical conditions (if any), frequency of purchases and more. 

Security - Cannabis dispensaries require setting up security cameras, alarms and other measures to unauthorized access to products and theft. 

Integration with state tracking systems - Some states require cannabis businesses to provide seed to sale tracking with data updated in real-time across all functions. 

Compliance reporting - Create reports on inventory, sales, customer and product data in accordance with state and federal regulations. 
How does a cannabis POS help with ensuring compliance? 
A cannabis POS comes with a number of features that automates record keeping of products, sales made and customer data. But let's take a look at how this helps with ensuring cannabis retailers remain in compliance
1. Accurate and streamlined record-keeping 
Being able to maintain accurate records is one of the most important aspects of running a cannabis business and ensuring compliance with state rules on a day to day basis.  
A cannabis POS software gives dispensaries an efficient way to keep records of inventory, sales, customer data and other important information, without having to manually update spreadsheets across the various functions. This allows cannabis businesses to maintain detailed records of all transactions that can be easily referred to when requested by regulatory authorities. 
Solutions like SellTreez also help automate updating information in real-time. We have built an extensive feature set to ensure the data is mapped appropriately and in real-time. For example, some regulations require cannabis businesses to report their inventory levels on a daily basis; this helps ease ensuring compliance through the cannabis POS system itself. 
2. Simplifies cannabis business audit 
In addition to record-keeping, the best cannabis POS systems also come with auditing tools. These are required when dispensary operators need to make inventory adjustments or reconciliations. 
The cannabis POS system can time stamp every sale, adjustments to inventory, receipts and even assign each transaction to a budtender at the premise. This makes it simpler for businesses and even regulators to go back in time to audit discrepancies. 
3. Customer verification 
Most states still have strict laws prohibiting the sale of marijuana or cannabis products under a certain age (in most cases, 21). This makes it vital for cannabis dispensaries and retailers to verify their customer age before ringing in the sale. 
Dispensaries can request valid identification before completing a transaction and record the same in the cannabis POS software. While some require a manual entry of this information, there are some systems that come with scanners that input the data into the software and are able to alert the check-in staff or budtender if the customer does not meet the required consumer demographics. 
4. Employee management 
Apart from meeting inventory and product sale regulations, cannabis businesses must also comply with a few rules laid down for their employees. This includes background checks and their minimum wage. 
The best cannabis POS software can help stay compliant even with a larger number of team members by creating a centralized system for employee information. This helps cannabis dispensaries and retailers calculate work hours, payroll and even manage schedules by integrating the cannabis POS system with an HR system like Gusto or Wurk. 
5. Automated seed to sale tracking 
Most states also require cannabis businesses to use seed-to-sale tracking systems. This is required to monitor the movement of cannabis or marijuana from the time it is planted up until it is sold to a consumer. These systems help state regulators ensure that cannabis products are not diverted to the black market or sold to minors at any point in the supply chain or purchase process that dispensaries and retailers have set up. 
The best cannabis POS software like SellTreez integrates with seed-to-sale tracking systems like Canix and Distru, also known as ERP to record business data. This also makes it simpler to provide data to Metrc and BioTrack to meet with compliances. 
Learn more about SellTreez compliance systems here.
6. Complying with tax regulations 
Apart from reporting, another key aspect that cannabis businesses need to look into are tax regulations. Cannabis dispensaries and retailers are subject to a variety of taxes - state tax, local tax, excise tax and sales tax. This requires the business to calculate and report tax liabilities. 
A good cannabis POS software helps automatically calculate taxes on each transaction. It also helps generate an overall report for the total amount of tax to be paid and already paid, making it simpler for businesses to file their taxes accurately. 
7. Customer relationship management 
As we mentioned before, it is vital for cannabis businesses to maintain accurate records of who they are selling to and what products are being purchased by them. But maintaining customer data is more than just about being able to serve them better; it is a requirement in most state regulations. 
The best cannabis POS software can help businesses build out and maintain complete customer profiles, which is important for states that have purchase limits for consumers. This includes their name, contact information, order history, purchase frequency, preferred payment methods, loyalty points and other data. The data can also help you personalize customer experiences that can build brand loyalty. 
8. Enhanced security features 
Cannabis businesses are subject to strict security requirements. This includes both the physical location of the dispensary or the retail outlet, as well as customer data, and the cash register. 
A good cannabis POS software can help enhance security with advanced features like setting user permissions to perform certain actions (issuing a refund, voiding a transaction, altering inventory data, etc.), user authentication, password protection and data encryption to protect against data breaches and fraud. 
9. Ease of operation across jurisdictions 
As your cannabis business starts to grow, you may have to explore multiple locations. In such cases, you may be blindsided by location-specific security and compliance requirements. Businesses can quickly run into legal issues by not being able to quickly adapt to the new requirements. 
A good cannabis POS allows you to change system admins managing your data and make adjustments to customer, inventory, product sale, pricing and other information. 
Recommended read: How California cannabis retailers can tackle new tax laws
Are you able to meet cannabis compliance regulations? 
It is important to understand that meeting cannabis compliance regulations benefits both the state regulators and the businesses. The rules and regulations laid down can protect businesses from fraud, theft, security issues, lawsuits, bans and blocks, and more. 
SellTreez is the best cannabis POS software because it is built using an enterprise grade technology that can enable dispensaries and retailers to meet compliance rules and regulations proactively. With intelligent integrations, automations and reporting features, the cannabis POS system is all that you need to run a legal cannabis business.